Inside:
The Eyeless Smiley
The Occult Power of Money and the Secret Symbolism of English Banknotes
Animal Rites
The Beast of Bodmin: Myth, Rumour, Conspiracy
Warm Leatherette
The Cult of Diana. First published 1997.
The Power of the Map
Explore the Bodmin Moor Terrestrial Zodiac
The Ludic Quest
Middle England, Satanic Mills and the Luddites
Where's Wally?
The prehistory of Multiple User Names, Stonehenge and punks debunked
Boyzone v Nocturnal Emissions
There is No Separation
Interview with a Teletubby
Behind the mask, Dave "Tinky Winky" Thompson
Against Identity! Against Gender! Those Pesky Piskies!
Folklore figures diachronically recast
The Stolen Moments
Lived fast, "died" young, and left a good-looking back-catalogue



© Earthly Delights, all rights reserved.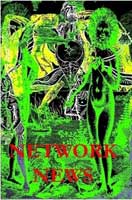 NETWORK NEWS
the book is out now