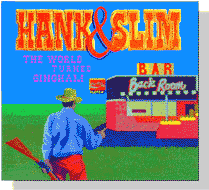 Hank and Slim
The World Turned Gingham
Caciocavallo / Soleilmoon CAD 6 CD (2000)
Track listing
Hank & Slim unmasked! The mysterious duo of Hank & Slim, responsible for the recent Caciocavallo release The World Turned Gingham have finally been identified! In an interview with Ambientrance editor David J Opdyke, our very own Nigel Ayers, best known to readers of this update as Nocturnal Emissions, confessed to being one half (along with Rapoon's Robin Storey) of this enigmatic group. Hank and Slim, two good ol' boys who lurched from legendary Bluegrass status and back into the trailer parks of Obscurity, TX, making Country music take the dark experiemental route. Or Robin Storey and Nigel Ayers deconstructing the sound of the airwaves and the pedal steel into droning peyote-fuelled washes of moody Mid-West ambience?
Rumours that the latter are true cannot still be confirmed, but if so then these sleeve notes are damn' funny! Hilarious, especially the section about the return in the Eighties of Hank's stint with Country Punk group Limey Faggots, favourite support group for both ZZ Top and GG Allin with a Thompson Twins fixation; there's nothing like a good yarn to liven up the lonely nights on the paririe, now is there? The World Turned Gingham isn't so much of a laughing matter in itself, as swarms of disembodied and vapourised voices call from the depths of the tape machine and sampler in back-masked calls of the wild blue yonder. The guitar pickin' and electronic foolin' is slow to the point of treacle chopped and diced into dessicated jerky strips of ambience, and a track like Suitcase On The Highway reverberates with ghostly choirs and slow-motion instrument sample fragments to time-wrangling effect. Strange Lights On The Prairie echoes with the calls and responses of what could be the Greys taking another sweep over the range, soundtracking a close-up encounter with the delay units. As for The Ballad Of Marky Martin, it's a whispered dirge slowed to a crawl, as a dread campfire story of those unfamiliar Country archetypes, skinhead football hooligans, complete with an eerie whistling melody.
This album is a strange one, and about the only recognisable slice of Country music comes in the shape of Thumbs In Beltloops, but that's so deconstructed as to be more of an excercise in rhythm and texture than it is a lament for a dead dog. Still, it'd be fun to watch the cowboys and girls stepping out to a barn dance where the liquidised words, plangent chunks of barbecued guitar and upchucked percussion samples of Gas, Food Trailer Park was playing - not much hootin' and a hollerin' going on there, except maybe at the DJ. Definitely too much cactus juice; pass another peyote button, boys.
Linus Tossio
Freq E-Zine
Rumours abound that this is actually Robin Storey and Nigel Ayers. Well, if so, how come all the tracks are credited to Hank Sterman and Slim Fenster, veteran musicians with a long and shared history described by the cover notes? Was it Ayers and Storey who, as the cover describes, in 1962, were unceremoniously fired from the Grand Ole Opry because 'all those electronic noises were scaring the cowboys'. Of course not. Ayers and Storey would probably have been toddlers at the time, so go on, smarty-pants, explain that one!
With the possible exception of a few Swans tracks, the influence of country and bluegrass has had an unusually low profile within the sphere of ambient, experimental, and avant-garde music. Perhaps everyone just knew that whatever they tried would inevitably sound rubbish in comparison to the pioneering efforts of those latter-day frontiersmen Hank & Slim. Having come out of self-imposed retirement the duo now capably demonstrate why P. Orridge in Roy Rogers chic wouldn't have worked. The years clearly haven't dimmed the powers of these masters of the steel guitar and multiphased oscillator. Clearly the golden years of Hank & Slim had a profound influence on the music of both Nocturnal Emissions and Zoviet France, which probably explains those absurd rumours. This music is at times, almost impossibly rich and evocative, with all manner of lonesome strangeness going on amid windswept layers of electronic prairie. Slide guitars drift past like tumbleweeds, suggesting hidden melodies once plucked out around some distant camp fire.
What seems to set Hank & Slim apart from those who dabble in less-countrified variations of this genre, is an expert ability to maintain the balance of mood. Although disorientating and electronic, it never once descends into doomy-noise territory. Rather, it captures, true to its roots, that wistful melancholia you only find in the best Slim Whitman or (post-teen idol) Ricky Nelson recordings. Although The World Turned Gingham is a largely instrumental album, it speaks volumes. Those forlornly echoing loops and treated samples could only have been crafted by men who know how it feels when your wife runs off with a carny roustabout, the dog takes sick, and you find a family of possums has taken up residence in your truck and eaten all the electrics clean away. An absolutely brilliant album, quite frankly.
War Arrow
Sound Projector 9