STERILE RECORDS
EMISS 001


When were you last in Control of your Dreams and Aspirations?
You Tempt Me
Limited Holocaust Engagement
Down the Sink
Shrubbish Factory
Slow Decay
Faith Invaders
Backwards Man - Regressive Music.

Personnel: Nigel Ayers, Daniel Ayers, Caroline K
Recorded in South London Sept 20th to December 1st 1980.

This is a different recording from the version of Tissue of Lies released later on Sterile Records in a blue on white sleeve and from Tissue of Lies - Revised, released on CD by Dark Vinyl.
AYERS: "What a completely bizarre record that is. It started of as an idea for a single - we hired a 4- track reel to reel to record it, but I ended up cutting that up with a lot of material from improvisations, endless, endless edits. When... is a pop song in the style of the Flying Lizards. This dissolves into a huge patchwork of multiply effected guitar and violin textures, ghostly voices, hypnotic echoing Dr Rhythm beats. The record is psychoactive. One side ends with a lock groove of Elvis Presley saying "yes, yes sir thank you sir", the other's got a lock groove of a cat purring.
"Amongst the many instruments we used a EMS-synthi on this, a synthesiser that must have been designed for laboratory use, its frequency range was far wider than any other available. Because of the extended rage of frequencies, the record had to be re-cut several times before it could be pressed. We put this out in a limited numbered edition of 500, which sold out immediately. Rather than re-pressing it, we used the takings to put out our second LP a couple of months later."
A good proportion of the lyrical content of Tissue of Lies was based on the writings of Joseph Sos . Sos, who was apparently suffering from some kind of mental illness, had sent hundreds of bundles of photocopied documents of his obsessive writing and collages to a massive list of Government agencies. Nigel Ayers had retrieved a bundle of these documents from the dustbins at the India High Commission in London.
I am told that Mr. Ayers holds a gold medal in skip-diving.
STERILE RECORDS
ION 2


THE NOCTURNAL EMISSIONS
FRUITING BODY LP (1981)

Phase I:
Smear Campaign 7"
Legs
Punishment
Dogs
Model Control Organism
Infected
Phase II:
LD-50
Breeding Ground
Routine Surveillance Exercise
Animal Byproduct
Manifesto
Moss Side
The Erasure

AYERS: "We were now playing live as a regular thing. Whereas Tissue is more dreamlike, Fruiting Body is more your power electronics.
"The cover photos are of an electricity meter that has been wired for free electricity, on the back there's a photo of the office block in Euston where the then-secret offices of MI5 were. A well-known commercial radio station was based in the same building.
"Fruiting Body contains recordings of very banal workplace conversations; and the packs of dogs that used to run wild down Lilford Road.
"The record's called Fruiting Body because the fruiting body of a dry rot fungus was growing out of the studio wall at the time."

STERILE RECORDS
SR 2


MB
SYMPHONY FOR A GENOCIDE LP (1981)

Treblinka
Auschwitz
Maidanek
Auschwitz (reprise)
Belzec
Chelmno
Sobibor


The moral of this work: the past punishment is the inevitable blindness of the present.
The joint-second vinyl release is labelled with an "SR2" catalogue number. There never was a "SR1", but there is an "EMISS 001" and an "ION2".
MB was Maurizio Bianchi, a Milan-based experimentalist whose prodigious cassette output had to be seen to be believed.
AYERS: "Maurizio wrote to me asking if I could put his record out in an edition of 100 copies. He even sent the money to pay for it, so I thought "what the hell"!
"Symphony was a classic of the industrial music genre, it has almost every cliché there. Maurizio's sleeve artwork was a photo of the Auschwitz Orchestra, a group of concentration camp prisoners who were forced to play classical music as people were herded into the gas chambers. On top of this was the MB "rune".
"The music was dense overdubs of oppressive distorted Korg MS20s, a different track on both the left and right channel. I stumped up the extra cash to make it an edition of 227.
"I lost contact with Maurizio soon afterwards. I'm told he joined the Jehova's Witnesses."

STERILE RECORDS
SR 4


LUSTMORD LP (1983)

A.T.M.O.M
Headplate
Sibling
Murderwrecker
Slabstone
Arise
Credo/Nemo
Beast Of Burden Beast Of Prey
Ovenblast
Amok
AYERS: "I met up with Brian Williams aka Lustmord at the Crypt performance. He was SPK's biggest fan, living in Wales at the time and working the night shift at a paint factory. He was saving up to buy every single Throbbing Gristle live tape.
"Brian sent me reports of the unannounced interventions he'd done at local pub gigs, plunging the room into darkness and using a hammer to beat hell out of a crash cymbal. After he sent me a demo tape of these "actions": which sounded like old train sound effects record interspersed with the Phantom of the Opera and a Windmill in Old Amsterdam; I decided he was the sort of individual who would be perfect for the Sterile label.

"For the LP, I hired a studio belonging to Robin Wood, who ran the EMS synthesisers company and had built a few sound modules for us. Brian came down to stay with his friend Nigel who'd helped on the Lustmordekay cassette. had helped on the cassette, and Geff Rushton - who Brian had roped in to play bass. Brian made one rhythm track by pounding bricks together - the studio filled with a choking cloud of brick dust. Geff was probably terrified by Brian's percussion technique and had to be cajoled into plucking randomly at the bass guitar. At one stage Nigel took his headphones off and revealed that his ears were bleeding.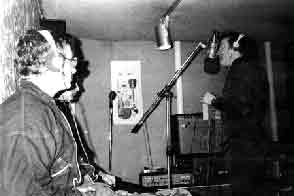 Lustmord in the studio, 1983.
"I no longer have the track titles, they came in an explanatory booklet which contained a pseudo-terrorist manifesto written in a scrambled mixture of Welsh, TOPY-speak, and terminology from postmodern cultural theory. This was transcribed by a Jamaican typesetter who wasn't very good at spelling at the best of times. So the booklet was quite hard to understand.
"The finished LPs came back from the pressing plant stinking of dead fish, which suited the project perfectly."
"Lustmord now works under various pseudonyms and has gone from strength to strenth."
.

STERILE RECORDS
SR 4


THE NOCTURNAL EMISSIONS
DROWNING IN A SEA OF BLISS LP (1983)

Anthems of the meat generation.
Norepinephrine
How Groovy You Were
Hardcore
Gloppetta
Tongues Speak
Want to Die
Smoking Rat Machine
Wrongly Wired
Violence is Love
Shan't Do That
Herpes Virus
Total State
Demon Circuits
Bloodbath
Peace Through Strength
Mechanical Induction
Home Video Warhead
Education For Consumption

AYERS: "By this time we were getting some positive notice in the music press. For me, the shock tactics of the past few releases had become stale and I wanted to explore something subtler. This record represented a turning point. On one side we had the harsh noise we were famous for; and on the other eclectic rhythmic pieces, a tribal groove with lots of collaged sounds."
STERILE RECORDS
SR 5


NOCTURNAL EMISSIONS
BEFEHLSNOTSTAND LP (1983)

The complete wreck of the Nocturnal Emissions

Segued Side:
Thorn Doors
Meaning of Life
Smash with Love
RTZ Genocide
Bite Them Back
Cute Toy Beagle
Spliced Side:
Befelsnotstand
Are You Feeling
Rabbits Don't Cry
More Mumbo Jumbo (From the Lie Factory)

AYERS: "Nocturnal Emissions had just returned from a sell-out tour of Germany. I don't like to criticise former band members, so let's just say the usual sort of stupid rock n' roll things happened and the band was in disarray. I was left with no instruments, and all the debts the band had accumulated.
"Fortunately I still had the back catalogue of previous Emissions recordings . I put the Befehlsnotstand album together from various live tapes, emptied an old scrapbook to make the cover and set up a distribution deal through Red Rhino.
"Befehlsnotstand means "I was only doing my job". It was Eichmann's defence when he was on trail for war crimes. This was the best-selling NE release to date."
From 1984 till 1986 Sterile was contracted on a "manufacture and distribution" deal to the Red Rhino record distribution company in York. This enabled the label to re-issue some of its earlier releases, publish larger editions and to use colour printing.
.
STERILE RECORDS
SR 6


NOCTURNAL EMISSIONS
SONGS OF LOVE AND REVOLUTION LP (1985)

Power of Love
Song In My Heart
We Are Everywhere
Sugar Can't Satisfy
No Sacrifice (In Love and Revolution)
Hit and Run
Never Give Up
Revolution Baby
I Want you to Feel

AYERS: "Pop songs! Full colour cover! Class War ranting! Eating disorders! They just don't make them like this anymore! The CD re-issue's got Never Give Up as the first track - because it's the big underground hit. I prefer the playing order on the LP, it flows better."
.
STERILE RECORDS
SR 7


NOCTURNAL EMISSIONS
NO SACRIFICE
12 inch EP (1984)

No Sacrifice
Kween save thy Bog
Uprising

.
STERILE RECORDS
SR 8


HERE WE GO LP (1985)

A celebration of the UK Coal Miners' Strike 1984-1985

The Larks "Maggy"
Fallout "Trojan Horse"
Assassins "Genocide"
Band of Holy Joy "Disgust"
Bourbonese Qualk "Blackout"
Many Happy Returns "Sing"
Nocturnal Emissions "Bring Power to Its Knees"
Language "Bite The Hand that Fails to Feed you"
Max Closure and the Graves "Picket the Safety Way"
The Hafler Trio "Strata Definition Test 10""
Lustmord "Terror Against Terror"
Annie Anxiety and the Asexuals "The Gates of Freedom"
AYERS: "This was a fund raising benefit album for striking miners and their families. One of the last great battles against Thatcherism. I had a big list of famous groups who said they'd donate a track to this album, and in the end didn't. But, ho ho ho, some of the tracks on this record are very famous artists whose names still cannot be revealed for contractual reasons.
"Maggy is a pub rock song about the woman herself. Fallout's Trojan Horse is in fact a spiritualist's recording of a band-from-beyond-the-grave made up of Jimi Hendrix, Brian Jones, Bob Marley, John Lennon, Keith Moon and Nico. They are performing a cover version of Tie a Yellow Ribbon. The Assassins are in fact the Assassins of Hope, which is a village in Derbyshire. The Band of Holy Joy perform a final track from their early electronic period. Many Happy Returns' vocalist is Larry Peterson, who I last saw many years ago being strangled by his guitarist in the Old White Horse on Brixton Road. Nocturnal Emissions present a special pneumoconiosis version of Bring Power To Its Knees - it's a big hit at the Miners' Welfare. Language is a Walford Buchanon track. Max Closure and the Graves is another secret supergroup with a singer called Dave. I think that might be my vocal talents on both the Qualk and the Lustmord tracks. Annie Anxiety calls herself Little Annie these days to avoid confusion with Anne Xiety, a stand-up act.
"The record ended up being distributed partly through orthodox record shops and partly through a chain of wholefood shops."
.
STERILE RECORDS
SR 9


NOCTURNAL EMISSIONS
SHAKE THOSE CHAINS RATTLE THOSE CAGES LP (1985)

A
Metal Frames
Rusting Shells
In Our Time
Effra Barricade
B
Let The Bad Times Roll
Tanks in Gdansk
Fat Slimey Parasites
Bring Power To Its Knees
No Sack (the meltdown version)

Side B recorded live at the Ambulance Station, London 24 November 1984
.
STERILE RECORDS
SR 10


KONSTRUKTIVITS
GLENASCAUL LP (1985)

Konstruktivits
Carlou
Two Hands Held
How You Say
White Design
Half Hearing
New York
Incognito
Maribel
White Design II
Sierra Nevada

Glenn Michael Wallis plays instruments and vocals.
The record was engineered and produced by Chris Carter.
AYERS: "The idea was to have Chris Carter's name on the front, to attract time-travelling X-Files fans. But the Chris Carter credit mysteriously disappeared after I sent the artwork to Red Rhino. Could it be a conspiracy?
"Glenn is one of the great survivors of the industrial scene, I enjoyed most of his Konstruktivits work, though I don't think it ever really "caught on". He was once a member of the shock-rock band Whitehouse. Rumour has it that he also became a born-again Christian, which pissed off his pagan pals worse than anything. Is religious fundamentalism the curse of Sterile Records?".
Note: Chris Carter is in fact the Chris Carter of Throbbing Gristle and Chris and Cosey fame.
"Konstruktivits" is nowadays spelled "Konstruktivists".
.
STERILE RECORDS
SR 11


CONTROLLED BLEEDING
HEADCRACK LP (1986)

Track titles unavailable.
AYERS: Controlled Bleeding was an American band headed by a schoolteacher named Paul Lemos, who used to write to me frequently. The first version of this was a series of New Age acoustic guitar pieces, alternating with tracks of bog-standard industrial noise. I didn't think the noise tracks were very convincing. Not everyone can do noise properly, you know. So I put together a new version recycling some of their "mellow" tracks from earlier demos, and sent it back to Paul. He wasn't too pleased, but we settled for a new version which he put together; which became the finished product. I think the debate made for a better record."
.
STERILE RECORDS
SR 12


EARTHLY DELIGHTS - A STERILE SAMPLE
LP (1986)

Eversione "Frontiera"
Nocturnal Emissions "Never Give Up"
D-Box "D-Box"
Konstruktivits "New York"
Whores of Babylon "Sure Knocked Me Out With His Natural Wit and Charm"
Reg Sailyne "Thunder"
Sebastian Hellfire "Midi Evil"
Pornosect "For Your Entertainment"
Y.T. Looter "Special Brew"
"The Fine Art of Dying"
Moonchildren "Love Decibel 666"
R & D 28 "Improntu Surgery"
AYERS: "Eversione were an Italian band, fronted by a woman vocalist with a hard and heavy beat that made the studio speaker fall off its stand when I played first played it. D-Box is Walford Buchanan who produced proto-drum and bass ten years before anyone else did. Where is he today? - I'd like to hear what he's doing. Whores of Babylon were an excellent mostly-black, mostly-female punk band. Pornosectwas Andrew Burton and his partner. Unknown to me, Burton worked as Michael Heseltine's secretary at the Department of Trade. R& D 28 was Rock Wilson and Mick Gaffney's band. Rock (whose real name really was Rock) edited the controversial Apocalypso a Go Go fanzine which was regularly impounded by UK Customs.Fear of Thought is one of our Danny's projects, and the rest of the album is assorted riff raff and hangers-on.
"The idea was to follow this record up with individual releases, but most of the bands fell apart shortly after its release."
"Looking back, it's incredible the huge number of people who were associated with what was, despite its obvious influential nature, a very very small record label. And so many of them did this anonymously and were never credited. If this interview is ever published I'd like to thank the many people who helped us along the way, they know who they are."