THE STERILE RECORDS STORY
by Trevor Allsop
The small Sterile Records label is remarkable in that it carried many of the first releases of some of the most influential and famous industrial noise groups of the 1980s. The Sterile Recordscompany operated from 1979 until it was effectively dissolved in 1986. Growing from the mail art networks, the concept was to create a new form of music. It was an alchemical combination of the experiments of musique concrete and Fluxus combined with the critical eye of conceptual art; the spontaneity and energy of punk rock. The dark humour of industrial music and the incomprehensible nonsense of various ultra-leftist political fractions were an essential part of the mix.

Sterile Records used both commercial and non-commercial media to deliver anti-capitalist messages, multi-coloured noise and information overload. It was a small and very independent label, which was self- funded on a shoestring budget for most of its activities. Output included
cassettes
,
records
and
videotapes.
It was essentially a cottage industry, run by two or three friends from a squatted terraced house in London SE5.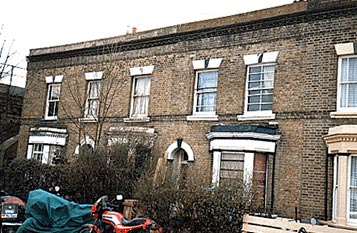 The Former Sterile Records HQ shortly before it burned down in 1996.
What follows is an attempt at a chronological disc-ography and tape-ography of this seminally influential record label.
The "-ography" is interspersed with comments culled from an interview with Nigel Ayers, prime mover behind Sterile Records, conducted by voicemail in November 1998.